KSHDC an Apex Body, established during 1964 for the development of handicrafts. Corporation has around 1,000 registered sandalwood artisans from Sagar, Sorab, Sirsi, Shimoga and Kumta.There are around 2,000 stone carving artisans spread across Shivarapatna, Karkala, Mysore, Sagar and Shimoga.
FACILITIES PROVIDED
INTAKE
Free borading and lodging.
Free toolkits and raw materials.
Capacity building of youth.
Promotion and sustenance of traditional wood & stone carving.
Skill development and self-employment.
Revival of traditional art, rehabilitation of children of local sandalwood carving artisans and creation of master craftsmen.
Sourcing of artifacts by KSHDC from trained candidates.
Creates pool of artisans out of trained youth.
Creates direct & indirect employment.
Impart training in traditional crafts to the rural unemployed youth.
To enhance interest on craft amongst youth.
Capacity building and creation of Master Crafts persons.
Development of traditional wood & stone crafts.
Facilitation for skill employment & self employment through skill development.
Imparting training in alternate wood carving.
Free two years certificate course
Training Centre, Hostel, Administration Block, Exhibition & Seminar Halls, Staff Quarters and Guest House.
Furniture – Training Centre & Hostel.
Wood Carving (WC)
Stone Carving (SC)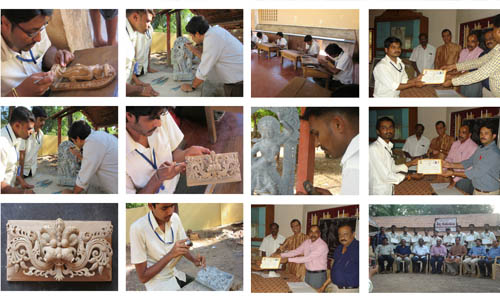 Mr.Srinivas Shetty
Project Officer
Sandalwood Craft Complex,
Keladi road, Sagar – 577401
Contact No. : 91 9448529600