Bidhriware – Originating in Bidar, Karnataka in 14th century during the rule of Bahmani Sultans. The name Bidhriware originates from the township Bidar which has still the rich heritage of unique metal ware. Bidhriware is combination of blackened alloy of zinc & copper and inlaid with thin sheets of pure silver. Bidhriware has been aptly made to suit contemporary taste such as cufflinks, bangles, goblets, vases, ashtrays, ornaments, knick-knacks, trinket boxes and more.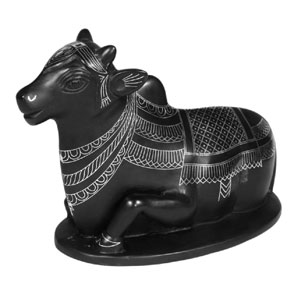 The basic material of Bidhriware is an alloy of zinc and copper in the proportion of 16:1. It is on this alloy that artistic designs in pure silver are engraved. The Bidhriware undergoes an eight-stage process. The 8 stages are molding, smoothening by file, designing by chisels, engraving by chisel and hammer, pure silver inlaying, smoothening again, buffing and finally oxidizing by soil and ammonium chloride. Now the Bidri item is ready for the final step of making the surface permanently black so that the silver inlay design will stand out in bright contrast against the dark background. There is a particular type of soil found in the inner depths of ruins which are three hundred years old, in buildings where neither sunlight nor rain has fallen for hundreds of years. This soil, when mixed with ammonium chloride and water, produces a very special paste which is rubbed onto the heated Bidri article. The paste darkens the body of the piece, but has no effect on the silver inlay. As the paste is rinsed off, the design springs dramatically into view, the shining silver resplendent against the black surface. Finally, oil is rubbed on the piece to deepen the black matt coating. KSHDCL has registered Bidhriware under the Geographical Indication Registry – No. 20.
With proper care and maintenance, Bidri articles can be kept bright and beautiful indefinitely. Never use Soaps, salts and acid to clean Bidhriware. Clean Bidhriware only with water and a soft cloth. You can use silver polish to shine the inlay work and then rub vegetable oil to sparkle the entire surface.